Ever wondered how to wash your kids' rain jackets and pants? Jan & Jul rain jackets, pants, and suits are easy to wash!
Read on for our best tips to on Waterproof Gear Care.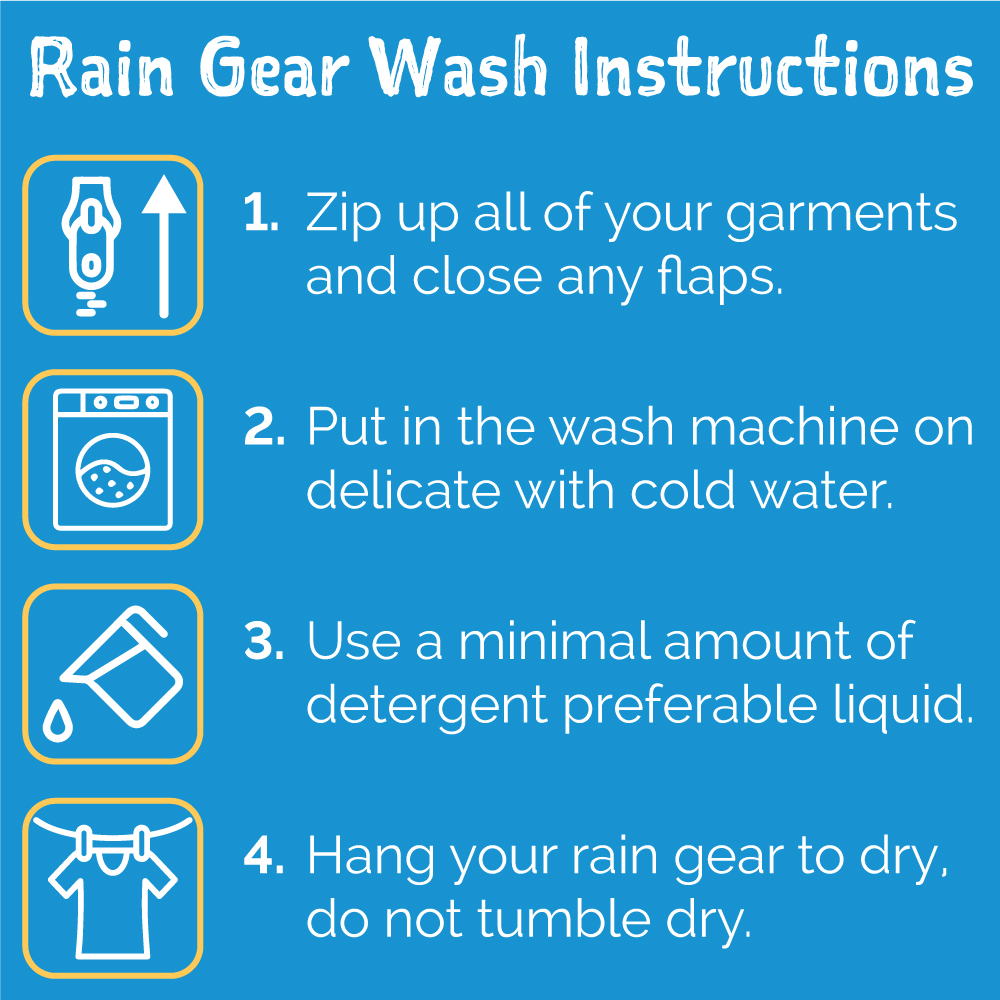 Machine Washable
Yes, you read that right. You can machine wash Jan & Jul rain jackets and pants! We recommend:
Wash rain jackets, pants, suits, and any other outerwear separately from the rest of your laundry, to avoid any mud transferring. Two items is best for load size.
Zip up zippers and close any pocket flaps before washing.
Choose a delicate cycle and cold water.
Go easy on the soap! We recommend using liquid detergent.
Wash your rain gear as needed, but try not to wash them too often. As with any piece of clothing, frequent washes may cause more wear and tear.
Hang to Dry
Tumble drying is NOT recommended for Jan & Jul rain gear! Instead, hang your rain jackets, pants, and suits to dry. By doing so you'll keep your rain gear in great shape, plus you'll also save on your electricity bill. Win-win!
If you think you'll need your rain gear the next day, try these tips to speed up the drying process:
If it comes out of the wash saturated, run an extra spin cycle on the washer to get rid of all that excess moisture.
Turn your gear inside out so the insides dry first. The outside layer is quick-dry, so first and foremost you want to ensure the inside dries properly.
When washing smaller items like boots, hats, and mittens, try using boot dryers to speed up the process.
Stain Removal
Kids get all sorts of stains on their clothing! You'll want to treat your rain gear depending on what kind of stain it is. If your rain gear has mud or dirt on it, do NOT try to clean it off while it's still wet! This will only cause it to smear. Instead, wait until the mud has dried completely, and remove as much as possible by shaking, brushing or scraping it off. Then, toss it in the wash if still needed.
For other types of stains, it's best to remove it right away. Instead of using a wash treatment, we recommend spot treatments with stain removers. Some stain removers recommended by Jan & Jul staff and customers include: Buncha Farmers, Dawn Dish Soap, Shout Stain Remover, Oxiclean, and a paste of Powdered Tide and water.
Do NOT use bleach on Jan & Jul products. Bleach can damage our fabrics and their waterproof properties.
Jan & Jul rain jackets and pants keep your children from getting wet and messy. But no one wants their gear to stay messy! We hope these tips and tricks help you out when washing your waterproof gear. Do you have a miraculous stain remover or tip you would like to share? Leave your suggestions in the comments!
Is there a topic you would like us to talk about on our blog? Comment below or connect with us on Facebook or Instagram to send us your questions and ideas! They may be featured on a future blog post. Happy adventuring!