Rain Gear Waterproof Technology – How it Works!
At Jan & Jul we believe in the power and magic of getting little ones into nature, no matter the weather! That's why we've perfected our rain gear to help keep your kids dry and protected. You may be wondering – what makes our waterproof technology so effective?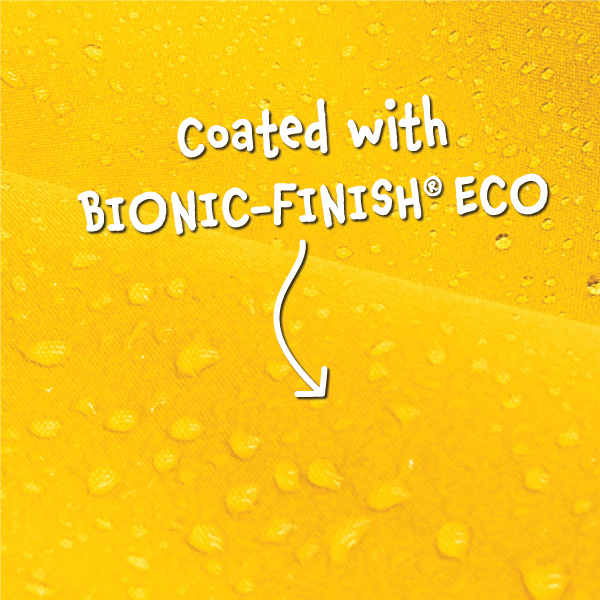 First Layer of Protection: Bionic-Finish Eco
For the first layer of waterproofing protection, our Rain Gear is coated with Bionic-Finish Eco. This coating is water-repellent and nontoxic. The coating works by making the fabric hydrophobic. So when you see water beading and rolling off our rain gear, that's thanks to this first layer of protection!
Bionic-Finish Eco is also fully biodegradable and environmentally friendly. It's entirely free from fluorine, harmful organic halogens, paraffin, formaldehyde, and fluorocarbons. It's also sustainable in keeping your rain gear waterproof for longer. That way, you can get more wear out of our rain gear and even pass it down between siblings.
Second Layer of Protection: Waterproof Membrane
For the second layer of protection, a waterproof membrane lines our rain gear, which completely stops water from passing through it. This membrane acts like a second-line-of-defense against water, which does not "wear off" or wash away. This allows our rain gear to stay waterproof even when you machine wash our gear – therefore no need for fancy tech-washes or solutions.
Final Assurance of Protection: Fully Taped Seams
It's common sense that you need to pass a needle through fabric to sew a piece of clothing. This creates almost invisible tiny holes, which in the case of rain gear, may allow moisture to pass through. To make sure our gear is 100% waterproof, we cover all of these tiny punctures by taping the seams. A special tape is melted over to completely seal the holes.
Is Your Rain Gear Machine Washable?
Yes it is! Run it on regular cycle using your regular detergent and hang to dry. For more tips on how to clean your Jan & Jul waterproof gear, check out our Waterproof Gear Care Page!