Family Photo Tips: Beyond Saying "Cheese"
Are you looking for last-minute family photo tips or scrambling to find what to wear? I know the feeling! A family photoshoot can be the most stressful thing on your calendar this month. But what if it didn't have to be that way? What if it could be a fun event that your family looks forward to each year?
Family photos are a perfect way to capture the moments in time that seem to fly by so rapidly! You know, the type of memory where you remember. The scent of pine, a warm breeze, and your children laughing… That is how we should think of family photos. I'll give you a few tips to help your photo session flow without a hitch!
Tip #1: Hire a "Lifestyle Photographer
Advice from a lifestyle photographer myself, I'm always finding new ways to make kiddos laugh to get those true genuine smiles. This might mean a bear hug from Dad or a game of "What Animal Noise Am I Making?". This is what we, photographers, want to capture on camera–an entire session of just playing with your kids. Your lifestyle photographer will get the most precious, genuine, and memorable moments.
Tip #2: Colour Coordinating Outfits
One of the most important family photo tips is to wear coordinating outfits. I'm not talking about the matchy-matchy everyone wears the same busy pattern of coordination. I have three favorite color palettes: neutrals with a pop of color, blues with grays and mustard yellow, and if you're into color – pastels are a great choice for summer and maroons and olives are great for autumn.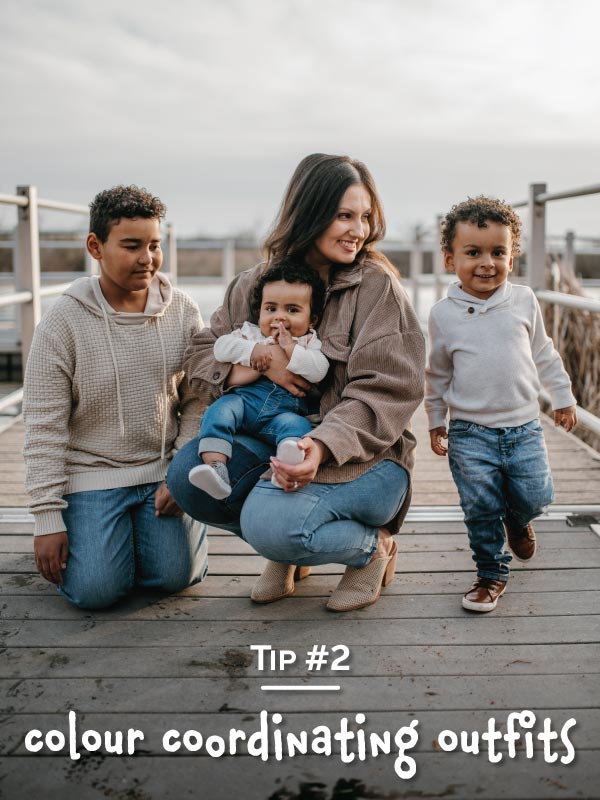 Tip #3: Wear Comfortable Clothing
Another extremely important factor for the kids is comfortable clothing! If your kids are anything like mine, they thrive barefoot, wearing loose and breathable clothing. Jan & Jul have some incredible barefoot shoes to choose from. My favorites are the Knit Shoes. They have so many color and pattern choices to match your colour palette! AND your kids won't take them off!
Tip #4: Before the Session
Get your kids excited about it – let them know you're about to go on an adventure! The key is not to put any pressure on the day itself. If you're stressed, your kids will notice and their emotions may mimic yours. Have a good meal with plenty of time to relax before your session, then get dressed right before walking out the door.
Tip #5: During the Session
Come ready to play, sing, bring a special book to read, or a favorite toy. Snacks and treats are welcomed, but please avoid crumb-y and sticky snacks. A typical lifestyle photographer will more than likely give you prompts instead of posing you. Nose kisses, dancing together, cuddling, holding your kiddos close, and loving on them are some of my favorite moments to capture during a family photo session.
The thought of getting your family all ready for a photo shoot can seem overwhelming, but it doesn't have to be! Follow these family photo tips, and you're in for a successful photo session.
Briana Fernandez is a stay-at-home mama of two, professional singer, and lifestyle photographer.